How do Maggi Trak chains fit?
Posted by on 24 October 2011 02:48 PM
Many people buy TRAK chains because they appreciate the innovation and the overall quality of the engineering which makes them particularly quick and easy to fit, even to tyres which are not suitable for conventional snow chains. One of their unique features is that once you've chosen the correct chain for your tyre size and adjusted it for first use, (10 minutes work), they're fitted without any need for special wheel bolt adapters. You don't have to kneel on the ground (snow, slush, mud) in order to fit them, and you won't forget how to do it. In other words, keep a set with you and you shouldn't ever get stuck in snow or on grass.
TRAK chains are placed over the top of the wheel, attached to a wheel bolt using a hand turning fastening wheel, then held against the tyre with specially shaped and sprung tensioning arms. When you drive off they'll very quickly work their way onto the tyres, and their self adjusting and self tensioning technologies will keep them in the correct position on the tyre, regardless of the road surface.
Click here to see how to fit your Maggi Trak chains for the first time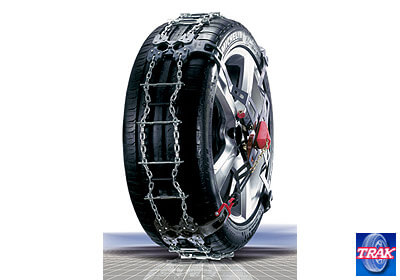 ---